Autism Speaks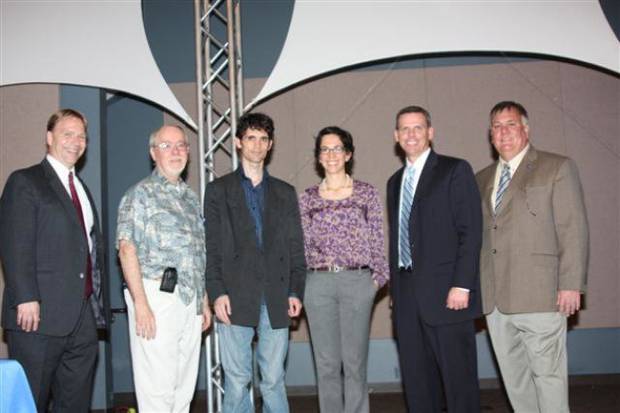 RIVERSIDE MEDICAL CLINIC FOUNDATION – April 10, 2013; 11:02 AM
A lecture, "Autism: Empowering and Embracing Your Child's Full Potential," was held at The Grove Community Church on March 14, attended by parents, caregivers, teachers and others.
The event was the Riverside Medical Clinic Foundation's 24th annual Dr. Richard N. Boylan memorial lecture.
Keith Nelson, a Riverside resident who recently chaired Riverside's Commission on Disabilities and coached floor hockey for the 2013 Special Olympics World Winter Games, served as emcee for the event.
Speakers included Dan Campbell, assistant professor at the Zilkha Neurogenetic Institute's Center for Genomic Psychiatry at USC's Keck School of Medicine; Shana R. Cohen, a post-doctoral fellow at UC Riverside's SEARCH Family Autism Resource Center; and Arman Khodaei, founder and program director for Empower Autism Now.
Campbell discussed the core symptoms of autism and explained how differences seen among autistic individuals raise questions about neurological development that can be answered by studying brain tissue. Through breakthroughs in neuro-imaging and by using genetics-based tools, scientists are beginning to understand the cellular and molecular states that contribute to autism. By identifying these common genetic factors, treatment options can be developed for those with autism.
Cohen focused on the education research being done at SEARCH to enhance access to high quality services for school-age children with autism. Founded and created by Jan Blacher, distinguished professor at the Graduate School of Education at UC Riverside, SEARCH is a resource center for families, providing information about early assessment, referrals, and education related to children with autism.
Cohen said research shows that a child's behavioral challenges, not his IQ, are what shape the relationship between the child and the teacher, which is crucial to a child's social and academic outcomes. Developing a positive student-teacher relationship by using early interventions focused on improving behavioral problems and social skills can reduce life-long dependency on families and society, as well as offer many autistic children a path to later school success in both academics and social-emotional functioning.
Khodaei, an autistic adult, described his personal experiences living with autism and what the inner thought process is like for someone on the autism spectrum. He explained how his foundation, Empower Autism Now, offers various activities, including social outings and clubs for people with autism. Khodaei stated that through participation in empowerment groups and transition skills programs, many autistic adults can develop and improve their social and leadership skills to become more successful in various activities, including dating and job interviewing. Khodaei emphasized the importance of educating employers on the needs of autistic individuals in the workplace.